Congregation Sinai San Jose
October 29, 2008
1 Cheshvan 5768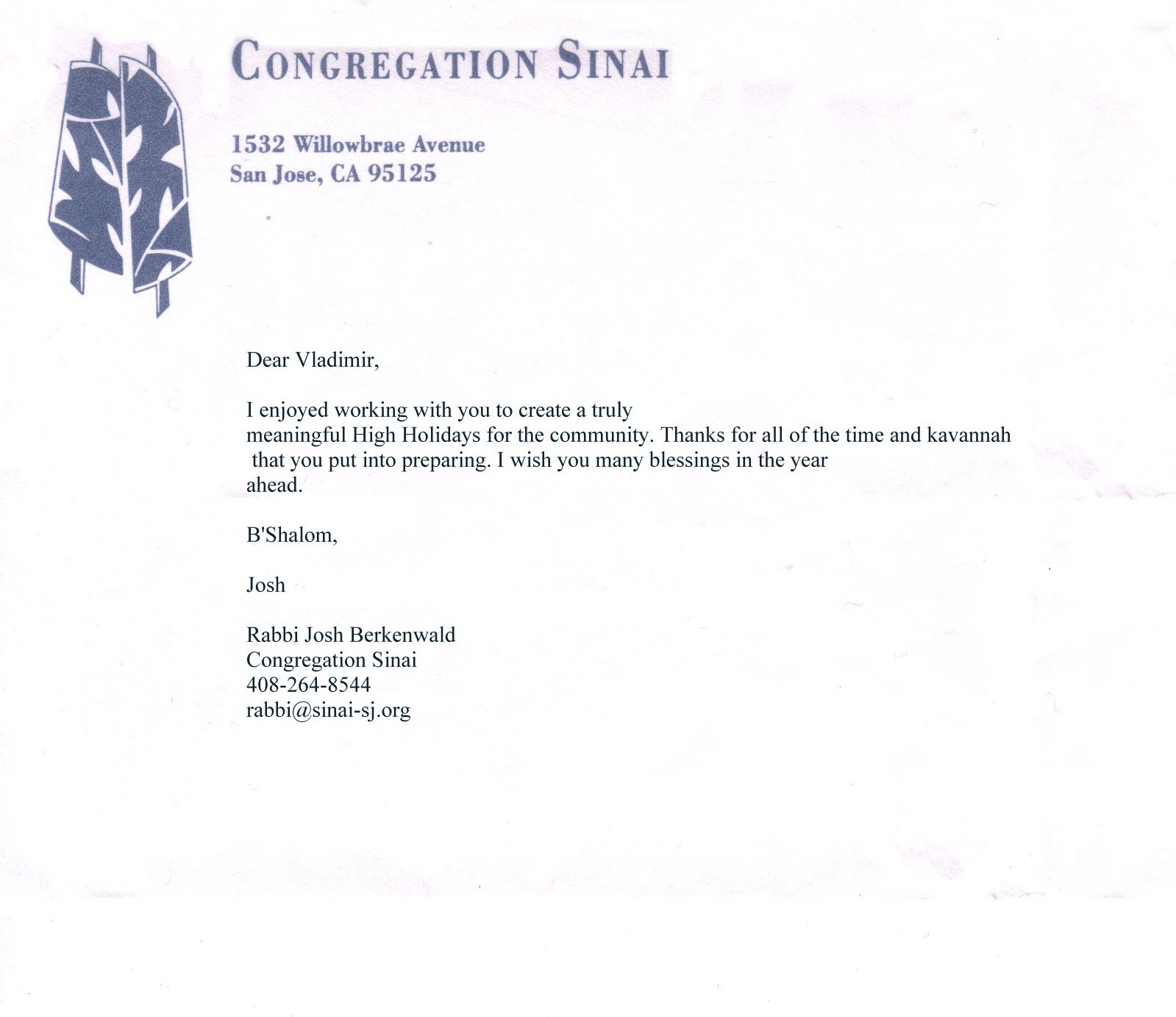 Dear Vladimir,
I enjoyed working with you to create a truly
meaningful High Holidays for the community. Thanks for all of the time and
kavannah that you put into preparing. I wish you many blessings in the year
ahead.
B'Shalom,
Josh
Rabbi Josh Berkenwald
Congregation Sinai
408-264-8544
rabbi@sinai-sj.org
TEMPLE ADAT SHALOM

15905 Pomerado Road, Poway, CA 92064 • (858) 451-1200 Fax (858) 451-2409
Ganon Gil Early Childhood Center (858) 451-6558 • Mosad Shalom Religious School (858) 451-848C
Please visit our website at: www.adatshalom.com
Serving Poway, Rancho Bernardo, . Escondido, Penasquitos, Scripps Ranch and all North East County

August 29, 2008
28 Av 5768

To Whom It May Concern

Vladimir is a kind and thoughtful person. He is reliable and trustworthy. He also has a beautiful voice which he shares with several congregations. We continue to keep in touch with one another and I applaud and support his efforts in the cantorial field and his desire to make aliyah.

Vladimir would be an upstanding citizen of Israel. Born in Tbilisi, the capital of Soviet Georgia, in 1958, Staerman initially trained as an engineer at Tbilisi Polytechnic University, earning a Master's Degree in Electrical Engineering in 1982. Deciding to follow his love of music, in 1985 he enrolled at the Tbilisi Conservatory of Music where he studied for the next four years. He performed as a soloist between 1989 and 1991 at The Tbilisi Opera Studio in Georgia. His love of Jewish liturgical music led him to become a soloist for the Moscow Synagogue Male Choir in 1991. He has since performed in many venues around the world.

In 1994, shortly after immigrating to the United States with his family, Vladimir landed a job as Cantor of Temple Isaiah in Newport Beach, California, where he spent the following three years.

I have known Vladimir since 1999. He had served our congregation as cantorial assistant for our High Holy Day services until 2003. He left this position upon receiving a scholarship from the Jewish Theological Seminary in Los Angeles to study cantorial arts at Jerusalem's Conservative Yeshiva in Israel. He has since received a cantorial degree from The Jerusalem School of Cantorial Art and Music.

I have kept in touch with Vladimir as he has returned to San Diego where he lives with his family. He continues to work as a part-time engineer through his consulting company, Gilavar Inc.

B'shalom
Cantor Lori W. Frank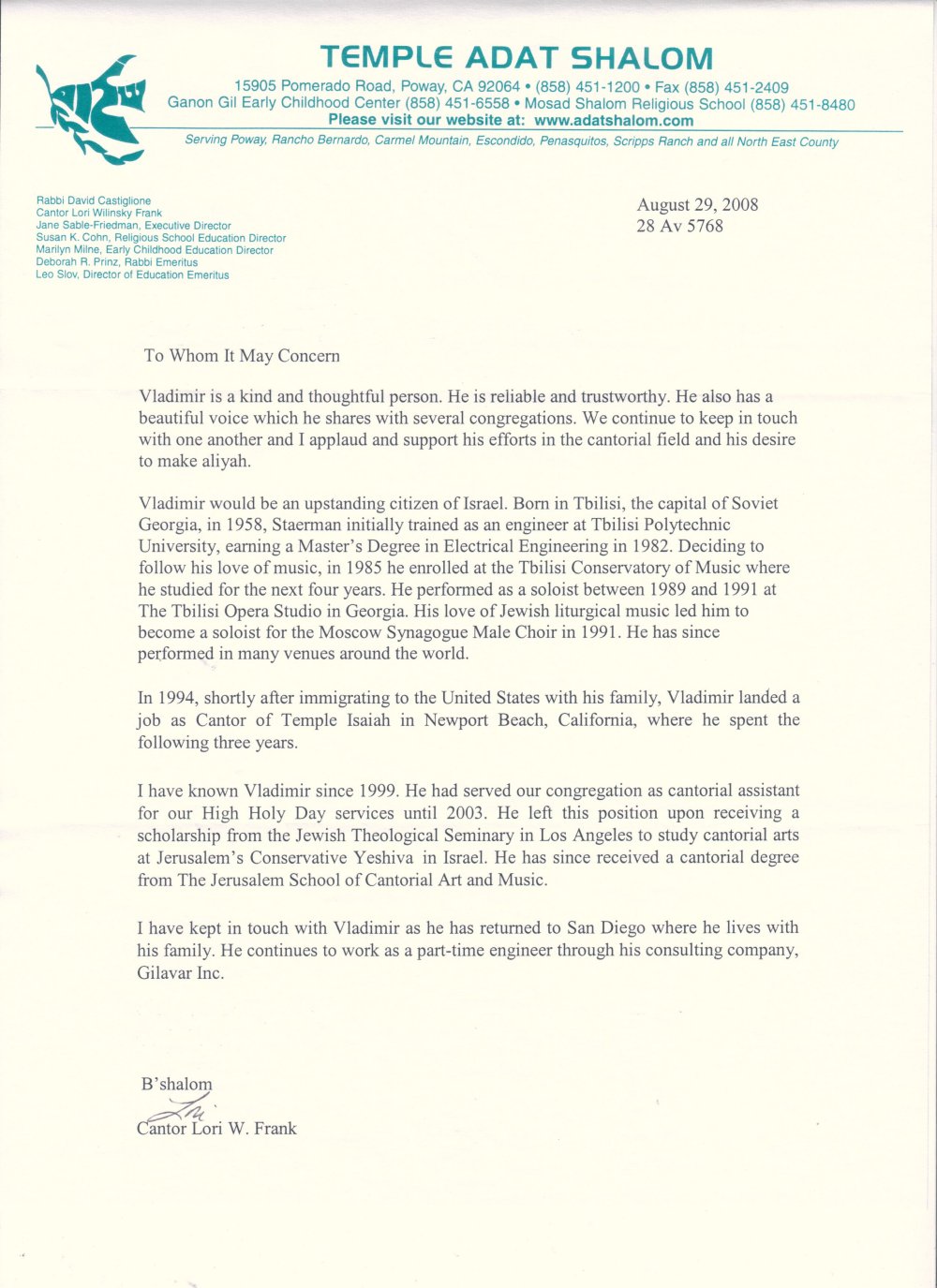 TEMPLE ADAT SHALOM

15905 Pomerado Road, Poway, CA 92064 • (858) 451-1200 Fax (858) 451-2409
Ganon Gil Early Childhood Center (858) 451-6558 • Mosad Shalom Religious School (858) 451-848C
Please visit our website at: www.adatshalom.com
Serving Poway, Rancho Bernardo, . Escondido, Penasquitos, Scripps Ranch and all North East County
September 23, 1999
Dear Vladimir,
On behalf of Rabbi Prinz, myself and the entire congregation of Temple Adat Shalom, I want to express our sincere gratitude for your dedication and exceptional performance as my Cantorial Assistant this year. The highest commendations go out to you for making the many hours that double services demand seem effortless.
So many congregants have made it a point to express how they so thoroughly enjoyed your participation and how beautiful you sounded.
On a personal note , I want to thank you for your prayers and friendship, support and understanding during this very difficult time. Your performance and willingness to assume additional responsibilities and step in for me in my absence on Yom Kippur was so greatly appreciated.
It was truly a pleasure working with you and I look forward to working with you again next year.
I wish you a very sweet, happy and healthy New Year.
B' shalom,

Cantor Lori W. Frank